FJCommentary
Subjects AtoG
Subjects HtoZ
By Date
FJ Videos
FJ Resume/CV
New Page 1
FRANK M. JORDAN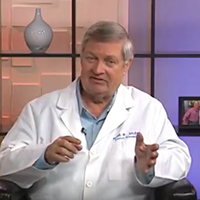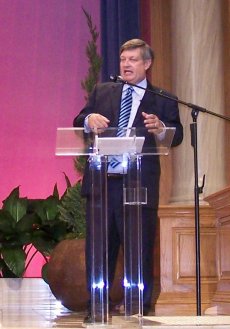 Frank M. Jordan, MBA, is a Nationally recognized Health Researcher (5 U.S. Patents issued or in process),
Business Executive, Civil Servant, Speaker, Author and National Media Personality
"Frank Jordan selected as 2018 Citizen of the Year for Liberty, Texas by Liberty-Dayton Chamber of Commerce"
Frank Jordan's Healthy, Wealthy and Wise Commentaries (1,000+ Archived Nationally Broadcast Frank Jordan' Commentaries) Plus
Frank Jordan's YouTube Videos on Health and Related Subjects (55+ HD Videos - 3 minutes or less)
Frank Jordan' 450+ HWW Commentaries as Podcasts now available 24/7 and on Mobile Devices at https://soundcloud.com/frankjordan-nsc
Frank and Connie Jordan's Health Inspiration Ministry with Health Bible Verses plus Frank's Inspirational Videos and Audio Tapes
Frank Jordan has now Nationally broadcast more than 4,250 Radio (see Frank On-Air at left) and 1,100 Television Shows, with 550+ Newspaper Columns during Frank's Media Career over Six Decades!
Frank Jordan' HWW Commentaries are now available 24/7 and on Mobile Devices Podcasts at https://soundcloud.com/frankjordan-nsc
Frank Jordan is the Executive Producer, Writer and Host of the "Frank Jordan's Healthy, Wealthy and Wise Commentaries" formerly heard Nationwide and sponsored by the Nutritional Scientific Corporation (NSC), as a production of the Hope Inspiration Ministry (HIM). Learn more at the HWW Show website, www.hwwshow.com. Join Frank additionally on www.twitter.com/siriusxmhealth.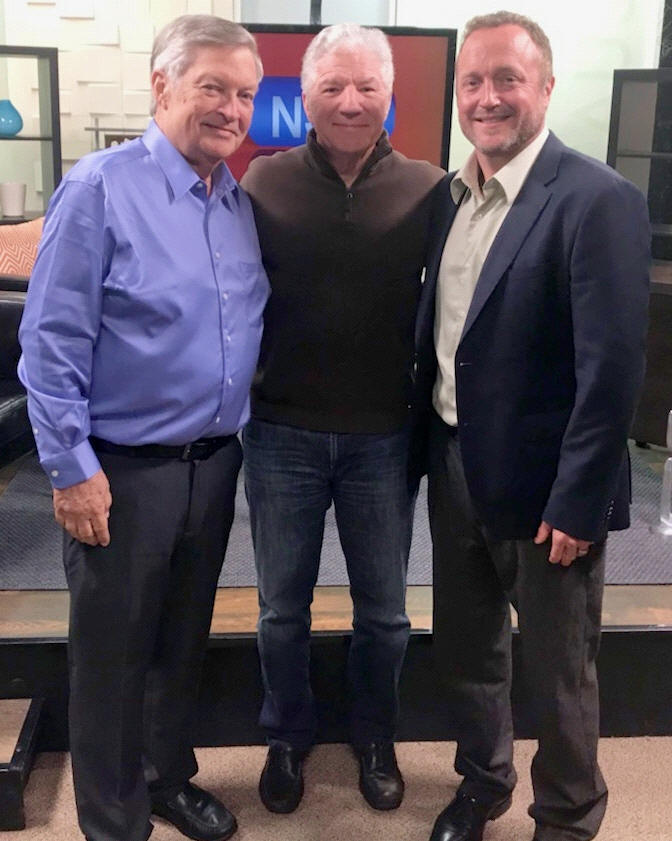 On National TV each weekday, Frank Jordan also joins his friend Doug Kaufmann and NSC President, Mark Campbell, on Doug's "Know the Cause" Show, seen on Dish, DirecTV, CTN, WGN and hundreds of cable systems and independent stations throughout the nation several times weekly. Click on Kaufmann TV for where and when Know the Cause is broadcast each weekday nationally and www.hwwshow.com for upcoming appearances of Frank Jordan on "Know the Cause" with Doug Kaufmann, in addition to a "Daily Health Minute" on the Kaufmann' Show..
Jordan's radio career began 64 years ago at age 12 in 1955 in Cleveland, Texas with 3 friends in a popular group known as the TomCatters in their Saturday morning entertainment show, with additional TV appearances and being featured entertainment in several Lyndon Johnson rallies when Johnson was a Congressman. During teen years Frank hosted several regional radio shows on KWLD in southeast Texas, while helping place multriple rock and roll acts on stage in various venues. During his TV career Frank previously hosted the Healthy, Wealthy and Wise TV Show televised nationally, with Frank shown at his desk on the HWW TV Show set below left.
Jordan is also Editor and Contributor to "Immunition Reports" representing multiple health subjects and also author of the Newspaper column, "Frankly Speaking" published weekly in "The Gazette." (Several of the articles out of hundreds are indexed below). Check out Frank's recent You Tube videos on more than fifty various health topics such as "What is beta glucan?", "Micronization of MG Beta Glucan" and NSC products by clicking on http://www.nsc24.com/videos.html . (Videos are about 3 minutes each)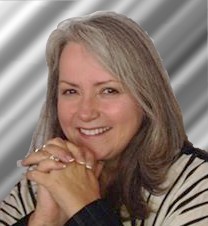 Jordan, in addition to his extensive media career, is an author, speaker, co-inventor with multiple patents issued (U.S. Patent 6,476,003) or pending and CEO/Research Director of Nutritional Scientific Corporation (NSC). Jordan is also Co-Founder, with his wife Connie at left, of the Hope Inspiration Ministry and an ordained Minister. Family is a central focus, with Frank seen below with wife of 30 years, Connie; plus children, spouses and grandchildren. Frank says, "Connie is not only my wife, but my 'best friend' and an inspiration in all aspects of my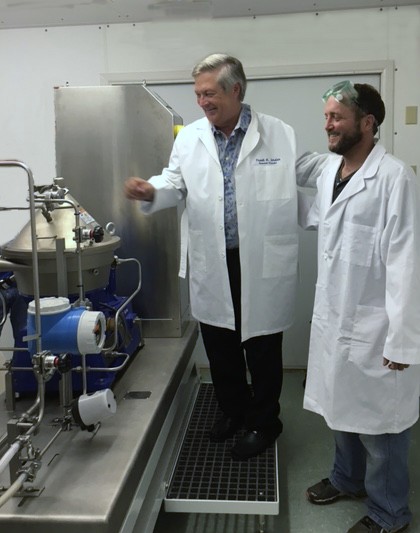 life." There three children and five grand children with one on the waymake life both fun and a challenge!
Jordan brings a keen wit together with a vast knowledge in health issues having enlightened and encouraged HWW viewers and listeners in health matters. Emotional and concerned about the flaws in our health system and all-to-common errors with patients by the system, Frank Jordan's goal is for everyone he knows to live a quality, not just quantity of life.
Jordanís media career, in addition to HWW, includes extensive network radio and TV programs discussing health issues and the immune system. Jordanís book, "FRANKLY SPEAKING - Volume I" contains 50+ health topics Frank first presented during the "Frankly Speaking" segment of his nationally televised Healthy, Wealthy and Wise television show. Other books by Frank Jordan include "Beta GluCAN! Immunition to Win Your Body War," "Lessons in Life and Faith" (no longer available) and "Holiday Treasures." Again, Frank also has scripted, voiced and presented more than fifty-five YouTube videos primarily on health, but also including multiple spiritual and emotional health issues.

Frank Jordan' TV, Radio, Books and More!
Frank Jordan was host of Healthy, Wealthy and Wise since the popular Radio health show began in 1999, with 4,250+ radio shows broadcast and 1,100+ television shows aired, plus numerous appearances on NBC, ABC, CBS, TBS, CTN and Fox Affiliates. As stated, Frank currently appears weekdays on national TV on Dish, DirecTV, CTN and Sky Angel Satellite Systems on "Know the Cause." In the business arena, Frank Jordan was the founder of Nutritional Scientific Corporation ( NSC ) and serves as CEO/Research Director for the corporation producing health products for the immune response both nationally and internationally. for decades.
.Join Frank on the Web or each week on national TV as this passionate country gentleman emphasizes you are not alone and you have an extended family that truly is concerned about you and your health concerns.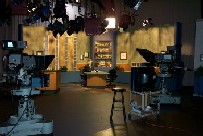 Jordan is a recognized expert on the immune system and nutritional supplements associated with the immune response and well-informed in natural health and nutrition.
Frank Jordan received both undergraduate and post-graduate degrees from the University of Texas in Austin, but considers "life" as the best teacher of all-to-rare common sense he shares each weekday with his vast media audience nationally. Loving music also, Frank was a member of the TriCounts rock & roll band in the 50-60's era, playing drums in the popular regional band, with sit-ins with personalities including Roy Head and Mickey Gilley.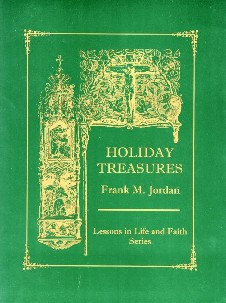 He still enjoys turning the music loud and playing the drum set he cherishes.
During teen years he also had a popular daily radio rock & roll show in the afternoons at KWLD AM broadcast throughout the Gulf Coast, including guests such as the Big Bopper on his Saturday show co-hosted with Huey Meaux music manager for many area entertainers. Additional entertainment interviews include Jerry Lee Lewis, Faron Young and Irby Mandrell-father of Barbara Mandrell and Director of the Country Music Association in Nashville at the time of the interview in Nashville, TN. Frank later met Barbara Mandrel in Las Vegas on her farewell tour. Earlier in Las Vegas, Frank danced briefly with Ann Margaret and proudly has an autographed photo of the star in her stunning dress she wore when they danced during the show.
Frank's book, "Holiday Treasures," is a spiritually oriented collection of essays written by Jordan, based on personal and historical research to both inform and explain our Holiday traditions and events; including Christmas, New Years, Valentines Day, Easter, Mother's Day, Independence Day, Thanksgiving and even Birthdays. Order this compassionate and informative book with beautiful graphics by artisans under the direction of Martin Luther in the 1500's, written from a Christian perspective, now by calling 888-541-3997 or from the HWW Catalog. A perfect gift for any Holiday or any day throughout the year.
Frank, as an ordained minister, additionally formed the Hope Inspiration Ministry (H I M) with his wife Connie, to help others help themselves physically, emotionally and spiritually. The website http://www.healthinspirationministry.com or www.gotohim.org has helped thousands with Bible verses and spiritual aids in confronting daily health challenges. While having no permanent church pulpit, Frank often preaches in various church venues on request. The ministry, according to Frank and Connie, is a way for them to give back and witness to others and is a non-contributory ministry.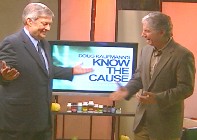 Frank and wife, Connie, are native Texans who live in Liberty, Texas near Houston, where he has served as Chairman of the Board of Trustees of his Church, served as a City Councilman and is an avid University of Texas at Austin Ex; with both BBA and MBA degrees (both in 5 years while working 40 hours a week). Frank enjoys traveling with Connie, family and friends, while writing, speaking, recording audio and video and serving in public service. One of his greatest pleasures is the opportunity to meet and talk with the legion of fans, including Healthy, Wealthy and Wise and Commentary listeners and TV viewers.
Frank sums it up this way, "You are a part of my family if you watch our videos and hear my Healthy, Wealthy and Wise Commentaries where we share our health challenges together. We express our concerns, health information, emotions, needs and hopes. I want to help give you what you need to have hope to cope with health and life issues and urge you to go to www.gotohim.org for spiritual guidance through Scripture. Our extended family is an integral part of our daily lives and Connie and I welcome you with open arms." Become a part of the HWW family of viewers and listeners as you join with your new best friend - Frank Jordan!
Frank speaks as a banquet or meeting headliner, MC, pulpit preacher, health symposium expert and more! For Information on Frank Jordan Speaking Engagements or to Discuss an Event featuring or including Frank Jordan, call 888-541-3997 or email Frank at www.nsc24.com.
Shown above and below are Frank Jordan with wife, Connie, and family plus speaking at a Health Symposium in Lake Charles, Louisiana to an estimated 1,000 enthusiastic attendees, plus with Doug Kaufmann on the set of Doug's "Know the Cause" on which Frank appears regularly.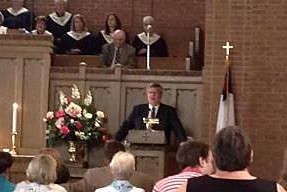 Frank is also an ardent supporter as a director (former) of the Trinity Valley Exposition supporting area youth while promoting vocational education on a continuing program for expansion.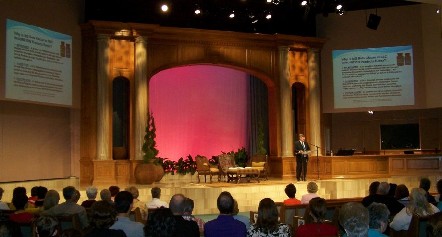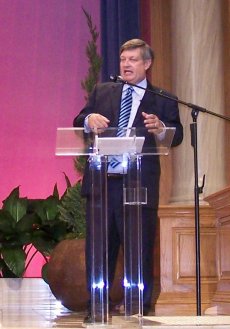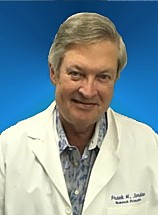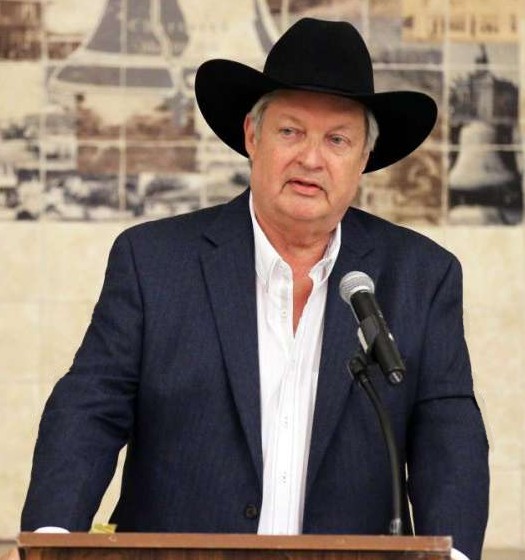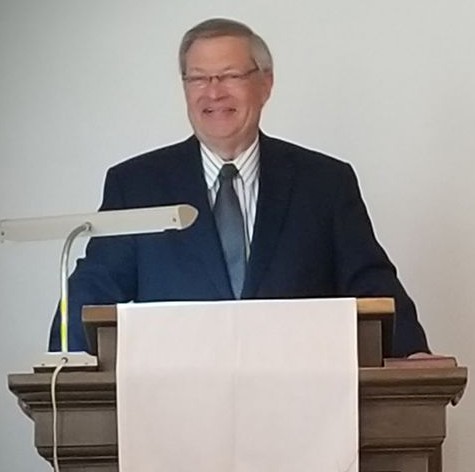 Recent and Scheduled Appearances:
Frank speaks with humor and a message often at functions throughout the United States, including at a Texas Municipal League Regional Banquet and with Dr. John Young MD and Mark Schauss in a Largo, Florida health symposium.
Frank Jordan has appeared at many Churches, including the New Life Christian Church' in San Antonio, Texas with Pastor LaSalle Vaughn and his wife Portia, the First United Methodist Church of Liberty, TX (at left) and the South Liberty (above right) and Hardin Methodist Churches in Liberty and Hardin, TX.. Frank also promotes vocational scholarships (shown in a Rotary Club speech) involved in youth education.
-------------------------------------------------------------------------------------------------------


Frank Jordan
More than 1,100 National TV appearances in all 50 U.S. States and Canada each Weekday, including his "Healthy, Wealthy and Wise" TV Show (no longer in production)

Health Talk Media Pioneer with more than 4,250 nationally broadcast radio shows hosted and produced over 20 years

Voice and writer for more than 450 nationally broadcast health Podcast on Sirius/XM radio

Author of Nationally Distributed Books involving Physical, Emotional and Spiritual Health

U. S. Federal Court Recognized Expert in Beta Glucan and the Immune System

National Speaker and Teacher in Health Issues with a Post Graduate Degree from The University of Texas at Austin

Scientific Researcher in association with Internationally Recognized Immunologists and Scientists

Co-Founder and Director of the national Hope Inspiration Ministry (HIM - www.hopeinspirationministry.com). Ordained Minister

U.S. Patent Co-Inventor in Immune System Science, with additional U.S. and Foreign Patents in Process

Civic including HGAC Economic Development as a Director, formerly the Texas Rural Grant Review Board & more

Charity Work including American Heart Assc. prior State Director-TX, Sunshine Kids (cancer) past national Director, & more

Producer, Writer and Host of 55+ YouTube Videos on Health and Spiritual matters

Author of more than 550 "Frankly Speaking" newspaper articles over more than a decade
Frank Jordan's Healthy, Wealthy and Wise 450+ Commentaries now available as Podcast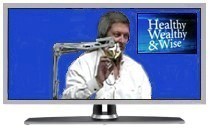 Formerly Weekdays Nationally on Sirius/XM Satellite Radio on the Family Talk channel
To select from an extensive list by health topic of FJ Healthy, Wealthy and Wise Commentaries, Click on Commentaries now:
Frank Jordan's YouTube Videos on Various Health Subjects (2:50 - 3:10 minutes)
Click on: Frank Jordan' Videos  (Scroll down to see listing) and Inspirational Topics (2:50 - 3:10 minutes)
"Holyistic Health - Body, Mind and Spirit" by clicking on: